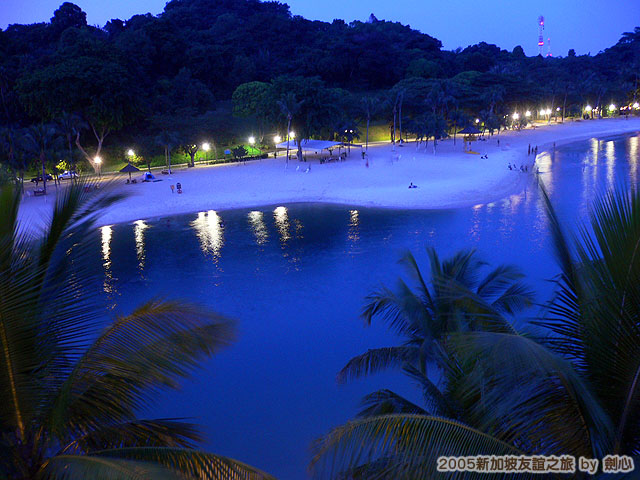 第三天本來就是乘飛機回香港,但卻出現了在下人生中最大的旅遊意外:趕不上飛機!
於是突然多了一晚的時間,前往當地最有名的旅遊區 ~ 聖淘沙島。
就此為這次旅程閉幕。而五年後的在下對這段旅程有什麼感想?
---
2005新加坡友誼之旅 (3)
---
第三、四天的焦點:
1. 參觀廟宇,閒逛充滿小店的小街
2. 趕不上飛機,為機票火併航空公司職員
3. 前往旅遊聖淘沙島,看沙灘看日落
4. 和數十新加坡灣岸玩家作終極交流
5. 於朋友家借宿,安全回到香港
---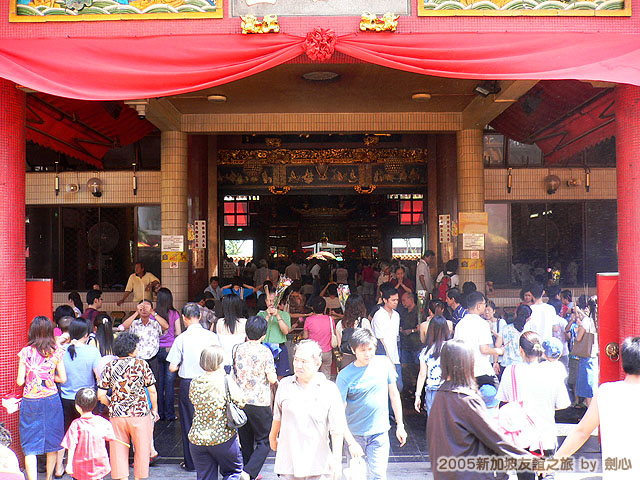 The third day was my leaving day. Roxy went to my guesthouse to pick me up at about 11:00am. After checkout we started going to SimLim, another famous computer shopping arcade. On the way to it we went through the street with small shops like Women Street of Hong Kong. Also there was a Chinese temple nearby. Just about 10 minutes walk we arrived at SimLim.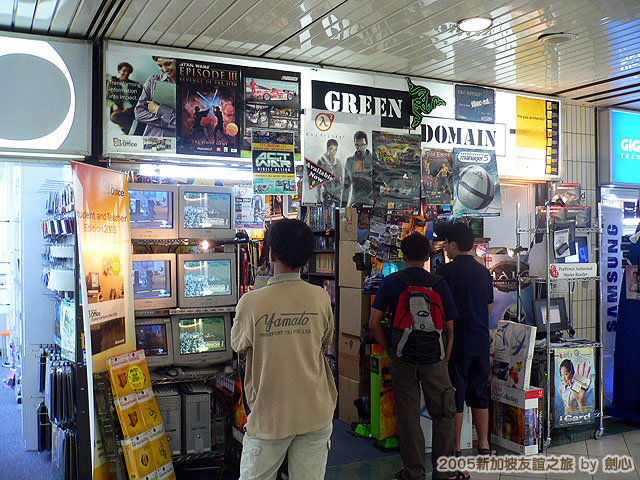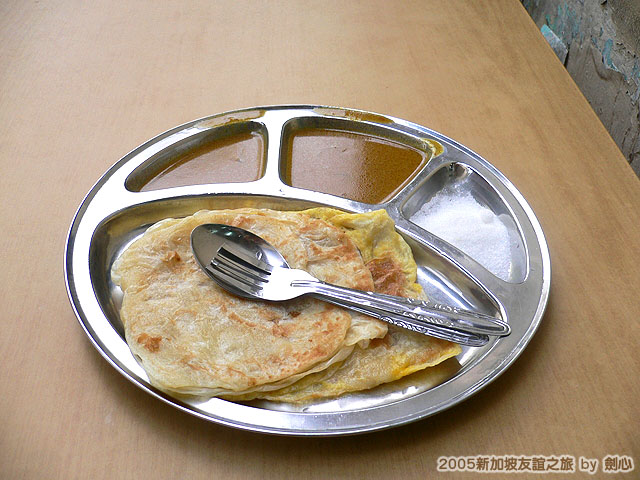 SimLim was somewhat different from Funan. SimLim was full of small shops instead. It was just like Golden Shopping Arcade of Hong Kong, with more space for walking. Roxy helped me to ask many shops for the converter I wanted, but still couldn't be found. After that we tasted Strawberry Milk Soda which was good. Then we went back to Bugis, and she bought me Indian pancakes in the restaurant under the guesthouse.
After eating, she went to a cake house nearby, and ordered Apple Strudel for me. Then I went to the fountain to record children playing in the water. We went to the McDonald at Bugis and shared the Apple Strudel. It was something like Apple Pie but it was much softer. Roxy said it was from Australia and she loved it very much. I also found it much better than ordinary apple pie. I ate half of them, Roxy ate 1/4, and the remaining was for Eugene who was coming to pick me up for the airport.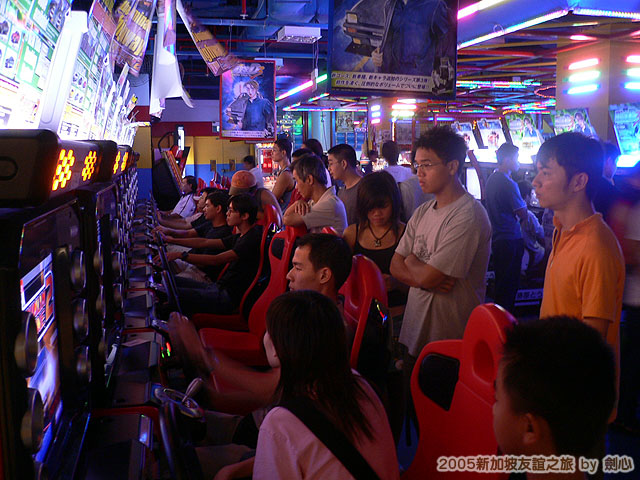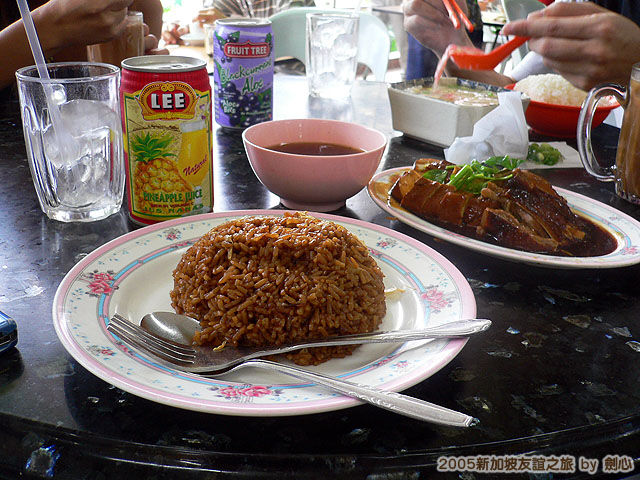 While we were waiting, we played Wangan at TKA Virtualand. At about 2:00pm Eugene came with Alfred and his girlfriend. Because Eugene was hungry, we took lunch at a foodcourt nearby. They ordered duck rice for me, and it was quite good. I thought it would also be welcomed in Hong Kong. After that we headed for the airport. We arrived there at about 3:20pm. When I went to check in, shocking event happened. The check in was already closed, and I was regarded as missing the flight!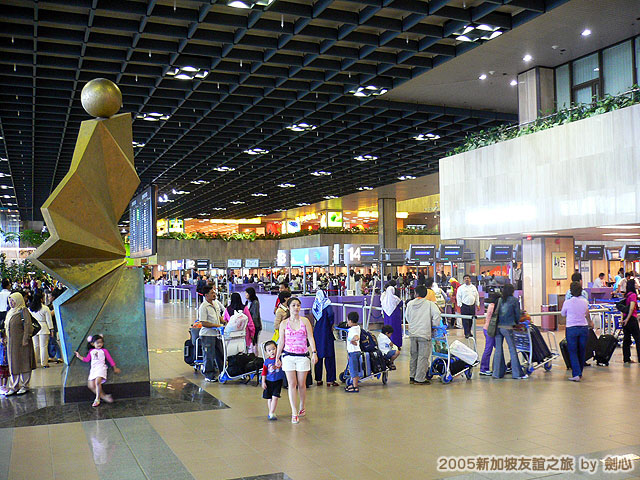 When we asked the customer service of Jet Star Asia, she replied that I had to change the flight by paying SG$150. Since I bought a single ticket with just SG$120 online, I asked the staff if buying online was even cheaper. The answer was yes. So we took the monorail to terminal 2, and accessed the internet at Pacific Coffee there.
However, when I checked the price online, the ticket for the next day was pricy to SG$240! As a result we immediately went back to the counter to ask for the flight change. However, another staff told us that if I missed the flight the ticket was already forfeited. I needed to buy a new ticket for SG$250! We were just frustrated about the difference between the responses from the two staff. It was wasting our time. Eugene even suggested we went for a formal complaint if the situation was not solved properly.
Finally, the staff went to find the manager. After discussion, the manager did us a favour internally, so that the situation solved with me paying only SG$150 for a ticket on the next day. By the time I got the receipt of the new ticket, it was already 5:00pm already. Anyway, it became my first experience to have a travel overseas out of schedule. It's really amazing and unforgettable.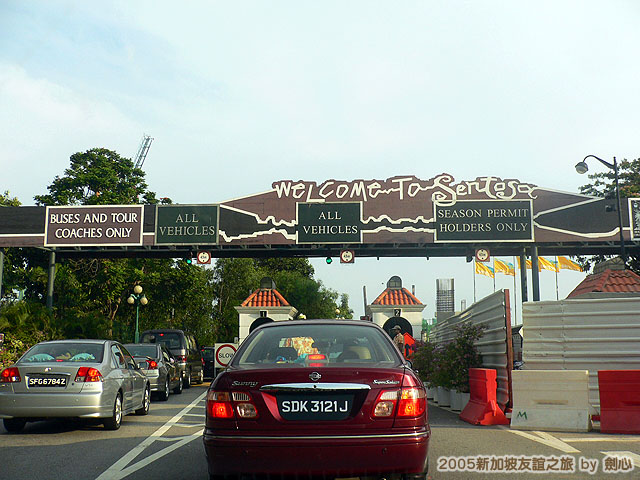 As a result, I needed to stay for one more day in Singapore. Eugene drove us away from the airport. After discussion they decided to let me visit a famous place of Singapore ~ The Sentosa Island.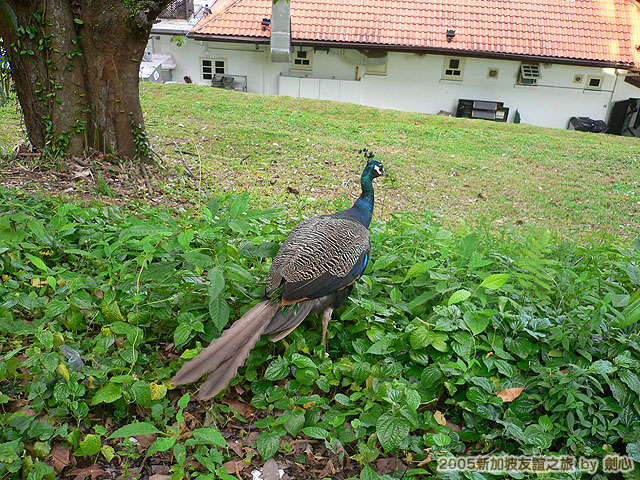 Sentosa was an island on the south of Singapore. It was a resort and sightseeing place for visitors. It was something like Ocean Park plus Golden Coast of Hong Kong. Even there was peacock running on the road freely. After entering the island, our first target was the two landmarks of Sentosa ~ The Carlsberg Sky Tower and the great Merlion.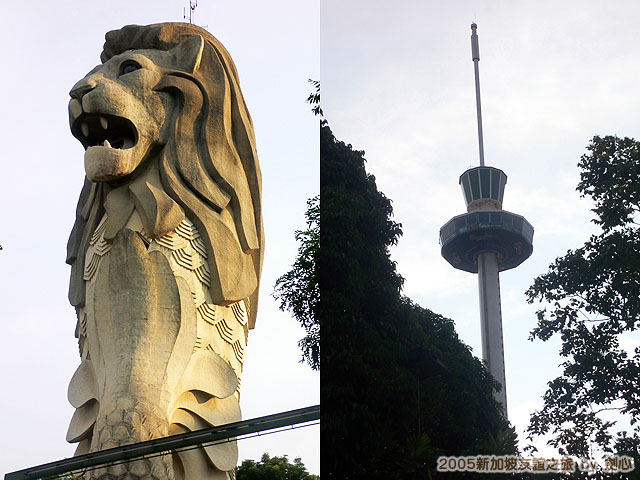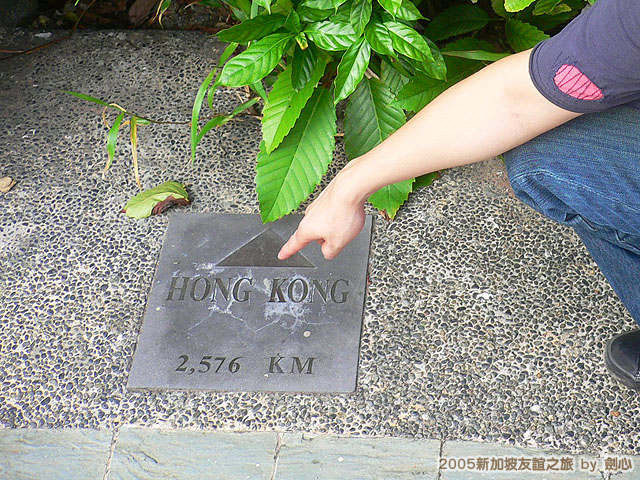 The Carlsberg Sky Tower was similar to the viewing tower of Ocean Park. With a circular and rotating viewing floor going up the tower, visitors could view the whole Singapore at 360 degrees. We just took photos there and didn't go up. The next one is the great Merlion. It was about 20 floors high, and visitors could view through the mouth of the Merlion to have a great view. We didn't go in also.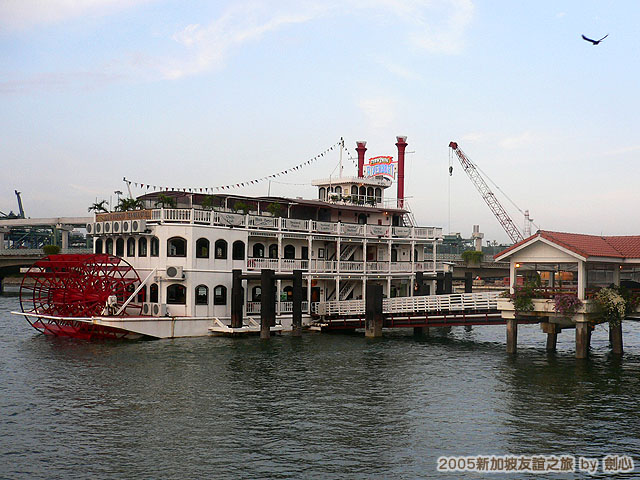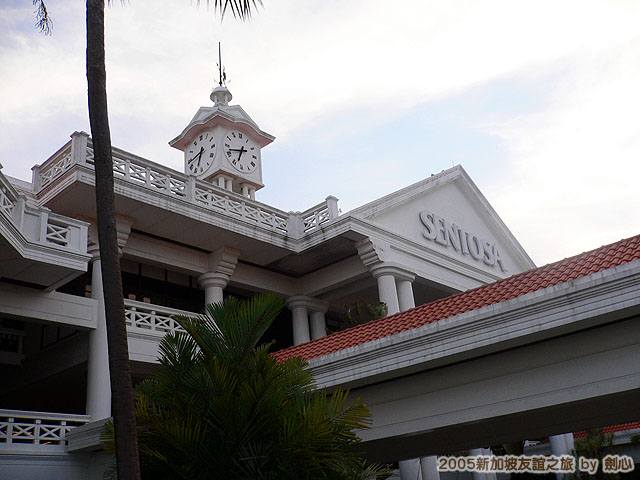 After that we drove to the northern part of Sentosa and had a look on the pier there. We took a number of photos there. Before the sunset, we went to the southern part of Sentosa to go to the beaches there. After we parked, we went into a small road but finding it leading wrongly to a stony shore next to the beach. Rather than going back, we walked along the shore, climbing across a stone dam like adventure, and finally we were on the beach.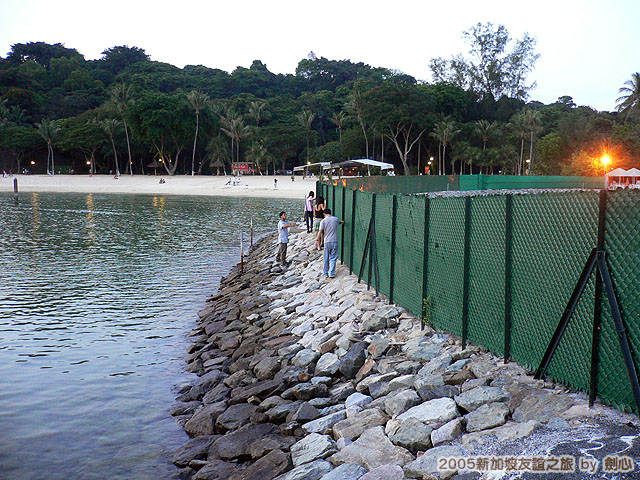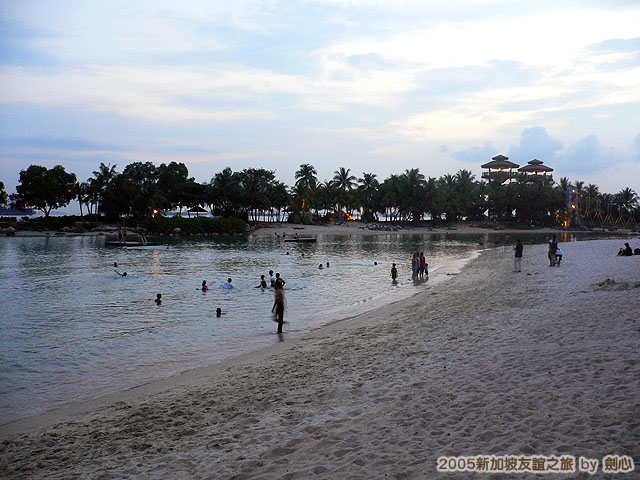 The beach itself had very nice sand and water. It was definitely much better than any beach in Hong Kong. We walked across the beach, while people there were still playing happily in the water and beach volleyball. We went over a bridge to the towers on the opposite island. This was the southernmost point of Singapore, as well as the southernmost point of the continent Asia. By the time I went up the tower the sun already went down, but the scene was even more beautiful. I got the best pictures in this Singapore trip at that moment.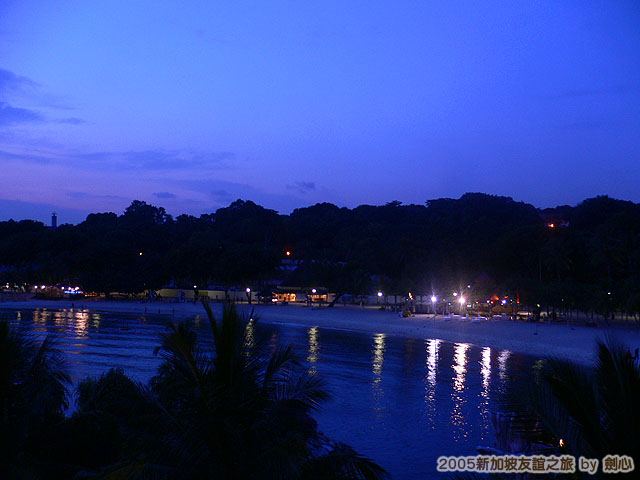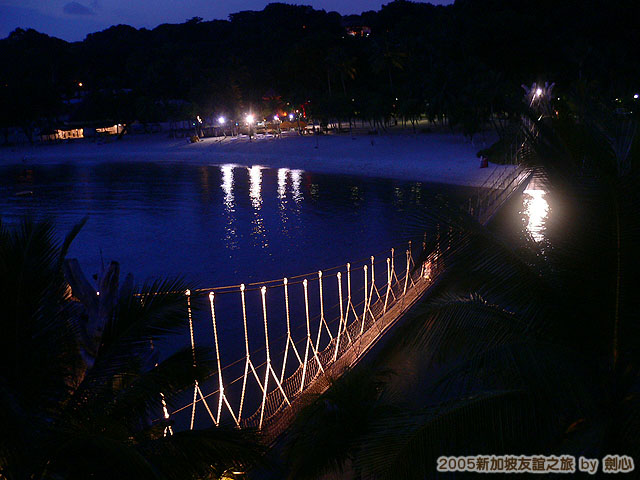 When we left the tower, I saw a wedding couple shooting photos on the beach. It seemed that Sentosa was a famous place for wedding photos. We then went back to Eugene's car, and we left Sentosa for downtown.
Our destination was Bugis TKA Virtualand again. There was a friendly versus meeting between Midnight Stars and other local Wangan teams. It was Saturday night and it was difficult to find a parking place around there. Finally we found it and went for Virtualand. Since I didn't prepare the clothes for the extra 4th day, I needed to buy a T-shirt. So I went with Alfred's girlfriend to buy in Converse Shop, while the others going down to Virtualand first.
After 20 minutes I went down to Virtualand. There was already a crowd of more than 30 players around the Wangan cabinets. So that's where versus battles between the best Wangan teams of Singapore took place. I walked around to see, and then joined a versus game next to the main battle. I played against Torn and William in slamming agreed battles. William was really a Slammer King and I was slammed badly for a few times. Through this I learned much about Singapore Wangan playing style.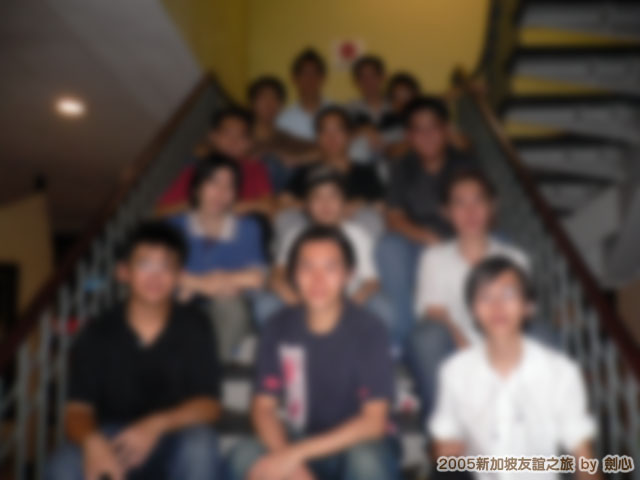 After about 10 rounds of play, I started playing time attack with other Midnight Star members. There were lots of local players watching, including members of other teams. At about 11:00pm, we finished playing. The other teams came with us, and William helped us to take lots of photos at the staircase beside the fountain. These three teams, the Project Dynamic Drifters, the Renesis Evolution, with the Midnight Stars, were 3 strong teams in Wangan. They introduced themselves, and I took photo with all of them. They were all quite nice, and I hoped there will be chance to meet them again in the future.
Then suddenly a Renault car with size a little bit larger than the Fit came. That was a car borrowed by Eugene in order to take more people. However we got 9 people there, including the 4 Midnight Stars member, me, Roxy, William and his girlfriend, and Alfred's girlfriend. It was even more squeezed than putting 7 people in a Fit. We needed some rearrangement of seating plan on the way for dinner, and we were all hitting each other on the way. Finally we arrived at a place very like Dai Pai Dong to have dinner.
The food and drinks were really Dai Pai Dong style, but surely in Singapore and Malaysia way. So I got another experience in real local food and eating style. After dinner the Midnight Stars members started some secret meeting, leaving me and the 3 girls on the other table. I chatted with the girls, and I seized this chance to practise hearing and speaking of Mandarin.
Finally we started leaving at about 2:00am. Since this was an accidental extra night in Singapore, I didn't prepare a place to stay. They decided to let me stay at Alfred's home in Woodland. So the car went to his place first. I said goodbye to William who wouldn't appear on the next day, and then I followed Alfred back home.
His home was very large. It seemed that every government apartment for Singapore citizens was of this size. It was really better compared the government, even private houses in Hong Kong. Alfred kindly lend me some spare clothes and I had a shower. After that I used his computer to go online to see what was happening in Hong Kong. Later I joined them to watch television, and we went to sleep at about 5:00am.
---
The next day I got up at about 11:00am. After taking drinks and instant noodles, we went down to wait for Eugene. While Alfred and his girlfriend was sitting, I walked around the place. The city planning of Singapore was really good. The residential area like Woodland I stayed had a lot of facilities and green area. My feeling was very comfortable. In Hong Kong since most of the land is hill, not plain land as in Singapore, it is really not possible to spend the space like this.
At about 1:00pm, Eugene came with his Fit. JKIZ and Torn was on the car. It was so strange that JKIZ could wake up so early. The answer for it was that they all just didn't sleep for the last night. After sending me and Alfred home, they went to Super Funworld to play Wangan. At dawn they played RISK at a 24 hour shop until the morning. It was just too bad I didn't know about their plan, as RISK was one of my most favourite game.
After picking up Roxy at her home, we headed for the airport. It was just around 2:00pm when we arrived. After I checked in, we got some food and drinks at Burger King. I tried the "Galatic Burger" which was under promotion of Star Wars Episode 3, and the taste was somewhat better than the burger at McDonald. After eating they went outdoor to smoke. I followed them and we made the final chatting. At about 3:00pm it's time for me to go. We took photos together in front of the departure gate. I shaked hands with each of them, and then we waved goodbye through the glass of the gate.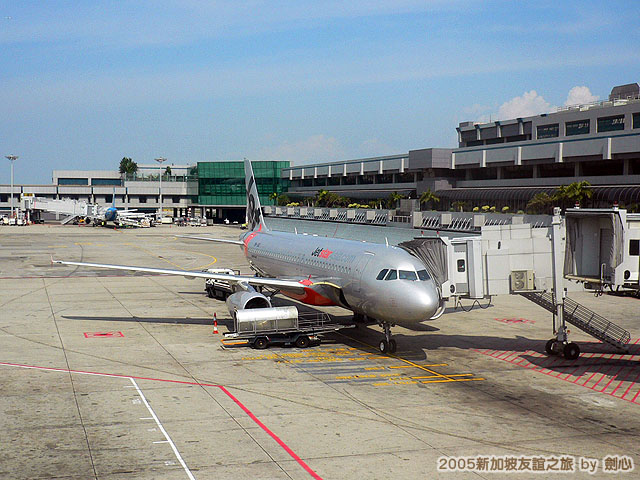 So that's how I left those sincere friends. I took the same Airbus A320, also sleeping on the plane, and I arrived at Hong Kong at about 7:30pm. KCW drove to the airport for me, with GT_HO and Masa came along. We went back to Hong Kong Island and having dinner together. I gave GT_HO the present Roxy made for him, and then we played a little bit Wangan. Near midnight I was back home, and this was the end of my special and unforgettable Singapore trip.
This was really an amazing and nice journey. The Midnight Stars and Roxy were so nice and sincere. It was my first time having local friends guiding for me all days in a trip. Thanks for them I got so much experience that couldn't happen to normal tourist. And the most important was that friendship between us jumped from online friends to the real one.
I am expecting their visit to Hong Kong, and I will surely welcome them in the warmest way. I also need to practise more on Mandarin so that we can communicate even better next time we met. Right now I will MSN with you all frequently to keep contact.
Last but no least, a thousand thanks to Eugene, Roxy, JKIZ, Alfred, Torn, William, and all others met in Singapore. Looking forward to our reunion somewhere in the future!
---
五年半後的感想
以上就是從硬碟挖出來的遊記Remake版,五年半後再看這些文字和照片,在下有什麼感覺?
最主要是回憶起當日瘋狂打機的宅男日子,其實原文某些有關打機的情節已經斬掉,以免大家看到想睡。當日去的確是和機友交流,所以有重點寫當中的過程是正常的。
到了今天,在下已經差不多放棄了打機,一來不夠後生仔鬥(特別是賽車遊戲),二來只是寫BLOG、微博、Facebook、報紙雜誌專欄,參加相關活動,已經佔據了在下大部分時間,這些都是可讓在下人生向前走的東西,遊戲方面要贏的都贏過了,已無更遠的目標。
這個新加坡之旅是在下開BLOG前最後一次的旅行,看回照片中的自己,無論是髮型及衣著,以現在的眼光去看是到「不堪入目」的地步,大家看到這裡明顯是有興趣看吧!當然黑歷史是不會隨便公開的。
不過尚記得當時的感覺是很好的,由打機打到相識滿天下是很奇妙的事,而且大家都是一心打機,友誼比較單純,玩得十分開心。相反現在身邊比較多商業和計算的成份,雖然成就更高但失去了那份純真的喜悅,可說是等價交換吧!
在下無論在訪問或著作中多次強調,自己是樂意承認做過宅男,不會抹掉那段日子,也就是因為那時得到的東西是寶貴及獨一無二的,永遠長存心中不會忘記。沒有這些經歷和友誼,也沒有今天的在下啦!
至於這班新加坡朋友之後如何?其實也隨著在下由賽車轉攻三國志大戰而變得少聯絡,偶然在MSN及Facebook會聊兩句而已。畢竟有地域界限,不能像香港朋友那樣隨時Call出來吃飯聊天。
但是,機會來了,在下終於可以再見這些老朋友,原因是什麼?下篇和大家透露。
發表留言