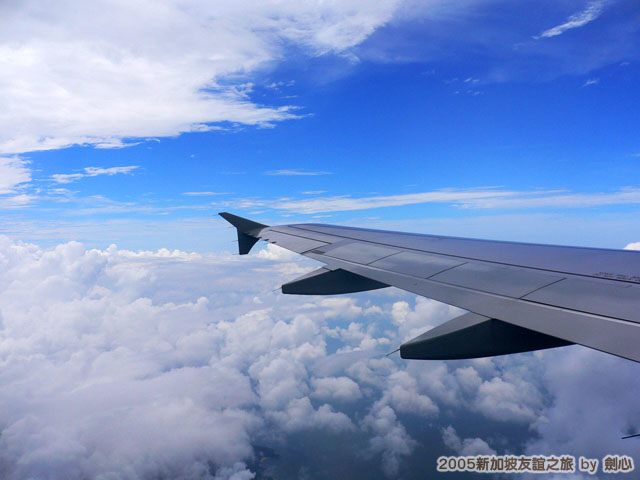 假日在家整理電腦資料,竟然發現了在下五年半前去新加坡玩的遊記。
抱著「循環再用」的想法,加上希望回憶當日的自己,所以決定把這些陳年文章放在BLOG,給自己,也給大家欣賞。
到底五年半前仍是絕對宅男的在下,會抱什麼心態去旅行呢?
2005新加坡友誼之旅 (1)
首先講講這次旅行的背景。
當年在下是個遊戲宅,專攻賽車遊戲,打到天昏地暗,於頭文字D率領車隊取得香港王者之位再擊敗日本對手後,轉戰新出的灣岸MIDNIGHT MAXIMUM TUNE。
那時香港是全世界賽車遊戲玩家最高水準的地方,故此吸引了很多外國玩家來香港切磋交流,而其中一次是來自新加坡的Alfred來港,在下和他吃過一次飯認識了,之後再透過網絡和他的車隊Midnight Stars的隊友Eugene及JKIZ認識。
到2005年5月,在下準備轉工,在上新工前決定先去一次旅行,鄰近的地方日本去過了,台灣更是五月初才去完,故此想起新加坡的這些朋友,就決定飛過去玩三日。
以下就是當年寫的遊記,因為是寫給新加坡的朋友看,所以用英文。在下當時英文水平不高,用字很顯淺,不用擔心看不明白,又或者只看看照片也可以。而照片也用Photoshop重新執過,執的時候才發現自己當年真是個攝影白痴,夜晚拍照用的是ISO 100……
---
第一天的焦點:
1. 乘廉價航空飛新加坡
2. 遊覽樟宜沙灘,初嚐地道叻沙
3. 入住市中心背包客便宜旅舍及介紹
4. 大熱天時在街邊狂吃中式火鍋晚餐
5. 夜闖紅燈區,見識每條街不同價錢的流鶯
6. 深夜上山駕車劈一轉,挑戰當地「99彎」山路
---
In the morning of 2nd June, I woke up early at about 7:30. With Masa coming to bring me the Singapore mobile phone and stored value cards, we went to Central together. We waved goodbye and I took the Airport Express to the airport. In the train I found that I didn't bring the spare battery for my digital camera. This was just too bad. I arrived at the airport at about 10:00am, checked in, had a breakfast at McDonald, and then went to the gate.
I knew from JKIZ and Eugene that cigarettes in Singapore was pricy. I wanted to buy a few packs for them, but the Duty Free shop in the departure hall only had cartons selling. As advised by them not to challenge the custom and excise of Singapore, I didn't buy it. Then I went into the gates, and took airport bus for the airplane.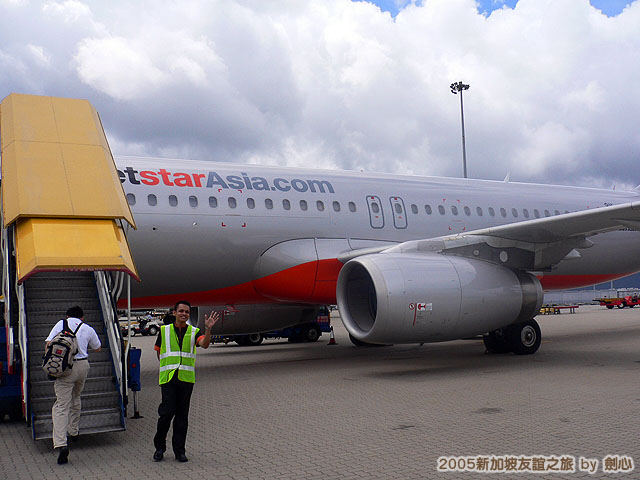 It was my first time taking aiport bus to the plane instead of going through a corridor and entered the plane directly. The Airbus A320 of Jet Star Asia was the smallest plane I ever took. There were only about 180 seats, all of the same class. There was no television and entertainment on board, and passengers had to pay for the drinks and food. This reflected the low price of the tickets, but the staff were nice. At 11:00am, the plane took off, and my trip to Singapore began.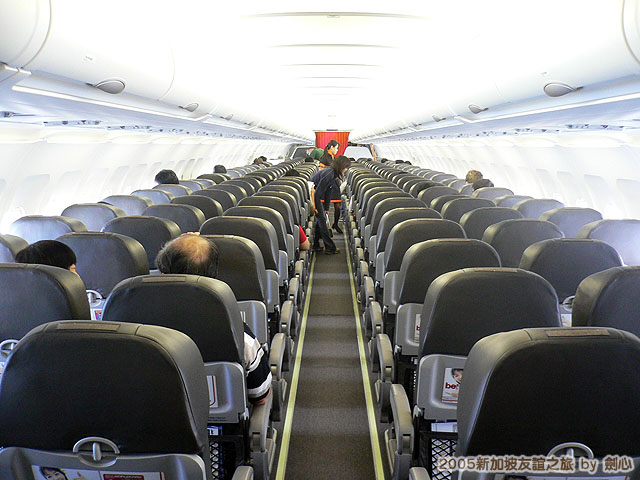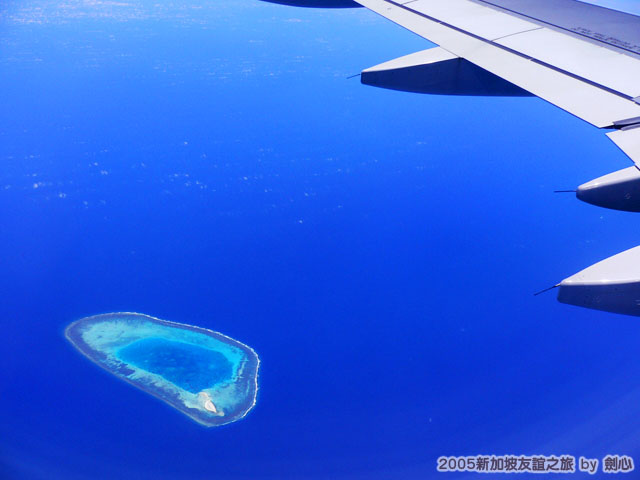 I recorded the take off movie through the window, and took a few shots for the beautiful view below. After that there was nothing to do on the airplane. Since the plane was just half full, I started sleeping on the empty seats beside me. Time went fast. After about 3 hours of flight, I could see the greenland of Malaysia below. Then the plane landed at Singapore Changi aiport while I also took the landing movie.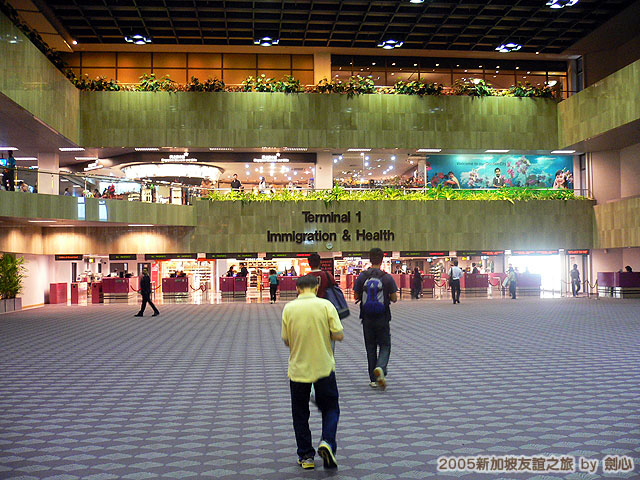 It was Thursday afternoon, and there were very few people at Changi airport. Fastly I passed through the custom and excise, and waiting at the arrival hall. I dialled to Eugene with Masa's phone, and he said he was on the way. While I was waiting, suddenly a girl came up and said hello to me. That was Masa's sister Roxy. She just knew from Eugene that I was waiting there, so she came and join me first.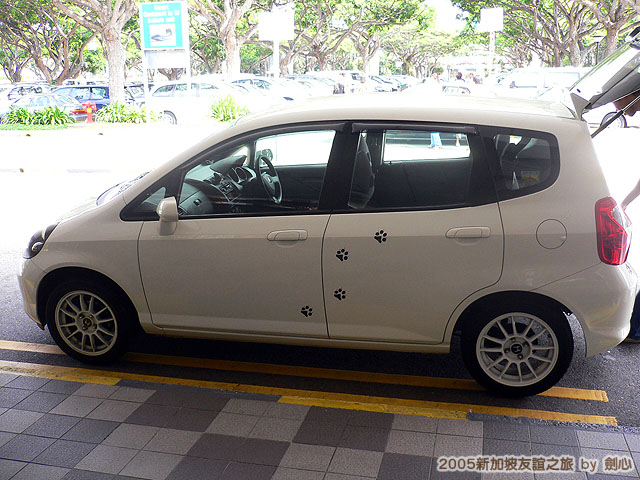 We started chatting and took a welcome photo. Roxy gave me a present which was a test tube with Gel fixing spaghetti in characters "KENSHIN" inside. She said it needed 4 hours of work to make it, and I was really appreciated to this. She also made one for GT_HO and told me to bring it back to Hong Kong for her. 10 minutes later, Eugene and JKIZ arrived in their the Honda Fit. We shook hands and said hi. My journey in Singapore began here.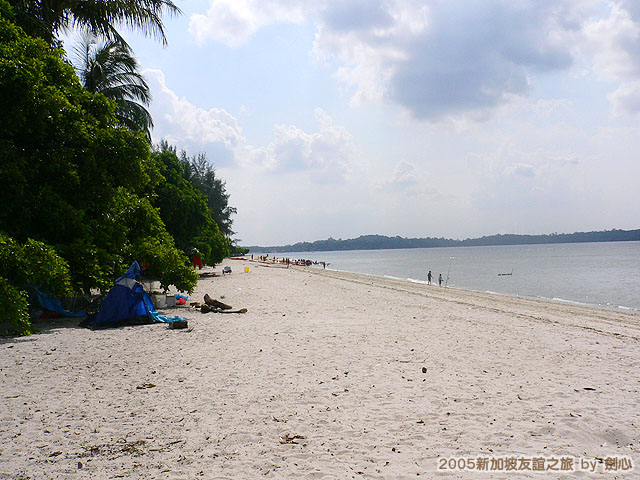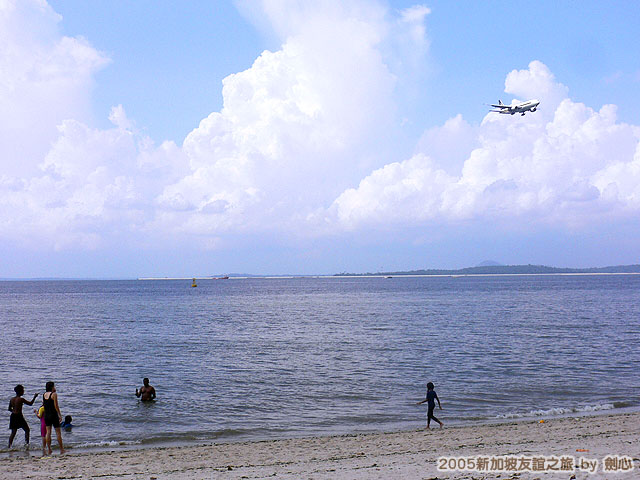 As planned already, they first took me to the Changi beach nearby. No one swam there, but many people canoeing there. I presented the tuned Wangan cards to JKIZ and Eugene, and we took pictures there. After that we went to Changi Jetty which was famous for resting and cycling. The view was beautiful but it was very hot. Eugene's shirts was all wet shortly. So after taking a few photos, we got back to the car and heading for meal.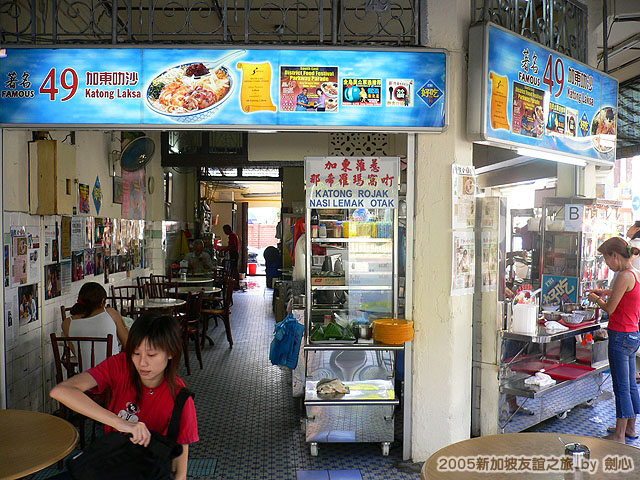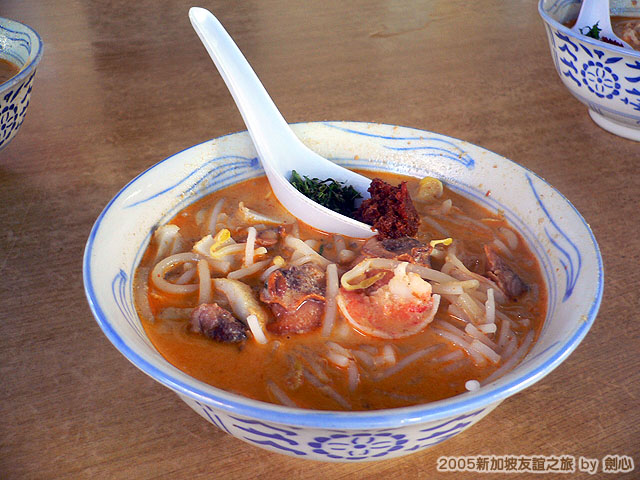 The first meal I had in Singapore was the famous 49 Laksa. As I saw in the shop it was the best Laksa recommeded by magazine and television. Laksa was something like spaghetti but made with rice, with special spicy soup. The taste was good. And we also ordered Barley to drink. It seemed that it was a popular drink in Singapore, and it was okay for me.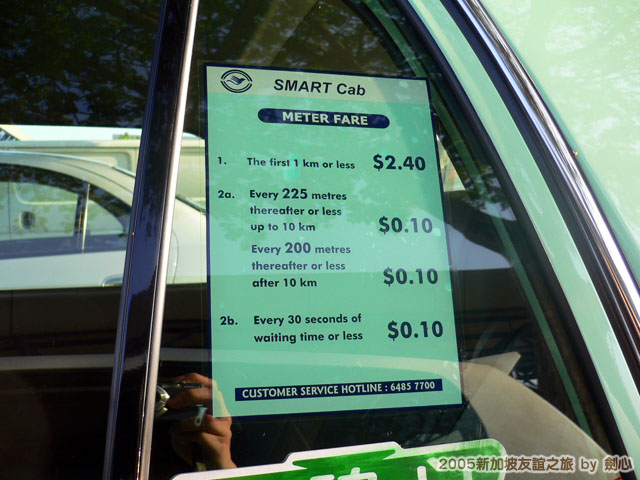 As a businessman, Eugene had been answering phone on the way. He even didn't have meal with us. After that as Eugene needed to go back to Changi airport for business reason, we went back there. While he was working, me, JKIZ and Roxy stayed in the car and chatted. After that we went to the seaside to take some sea breeze. The sun went down fast. When Eugene finished his work, we headed for the downtown at about 7:00pm.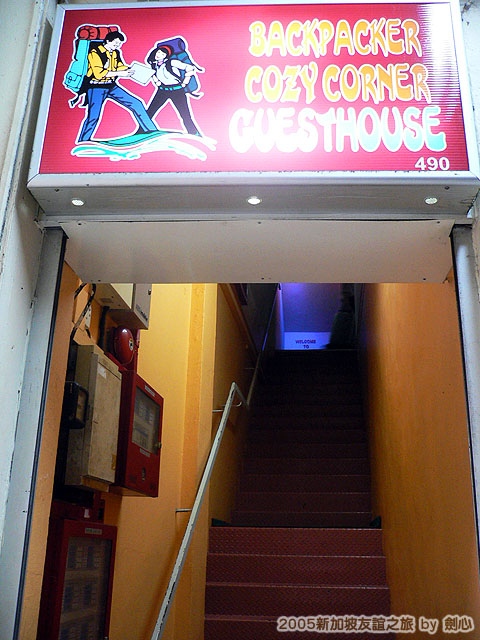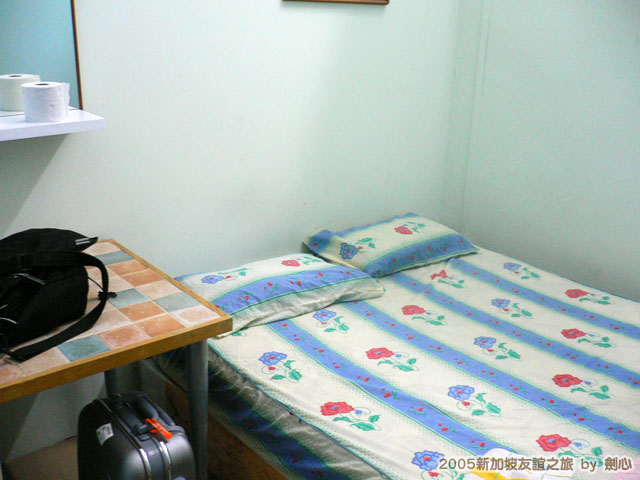 Singapore downtown was somewhere like Tokyo with less people. We went to the guesthouse in Bugis I booked. The name was Backpacker Cozy Corner Guesthouse. It was quite famous for backpacker travellers. The room rate was low, and the condition was okay if you didn't mind shared toilet and showering facilities. And the most important point was that the location was very convenient. It was easy to access many hit places from Bugis. After checked in, Alfred and Jackson joined up. I gave the blank cards to Alfred and took photos together, then we went to have Chinese style hotpot for dinner nearby.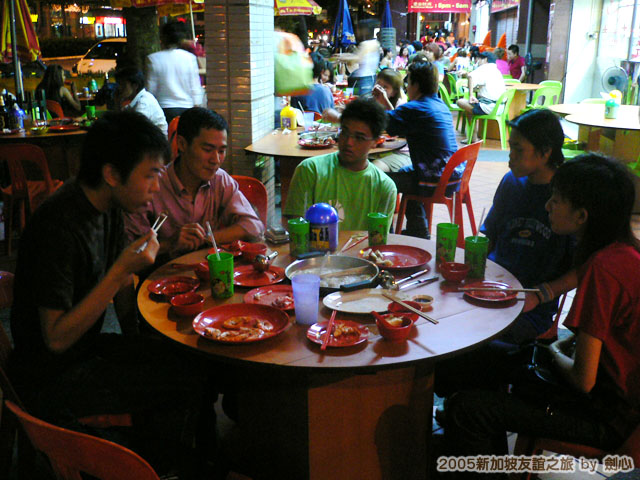 Singaporean liked to eat hot and spicy food, and they even used to eat outdoors without air-condition. For Hong Kong people who saw air-conidition as necessary, it was quite amazing to see this. But to experience local style was my favourite, so that's no problem for me. We sat down and started the hotpot. We ate and chatted happily. Later another Midnight Star member Torn joined. At the latter part of the dinner it was just beef time. Alfred alone took about 1 ton of beef himself, and this reflected his nickname ~ Bull. After finished, we went to the largest arcade in Singapore, TKA Virtualand of Bugis, just opposite to my guesthouse.
The arcade was really large. With 12 Wangan machines, 16 seats of WCCF, lots of shooting and music games, and more than 100 normal cabinets. There was also an Internet cafe beside. We started playing Wangan, with me showing my Hakone first. We shared our technique and experience, and played happy slamming battles together until the arcade closed at midnight. After that, Roxy headed home. The remaining boys took on Eugene's Fit and started to visit another side of night Singapore.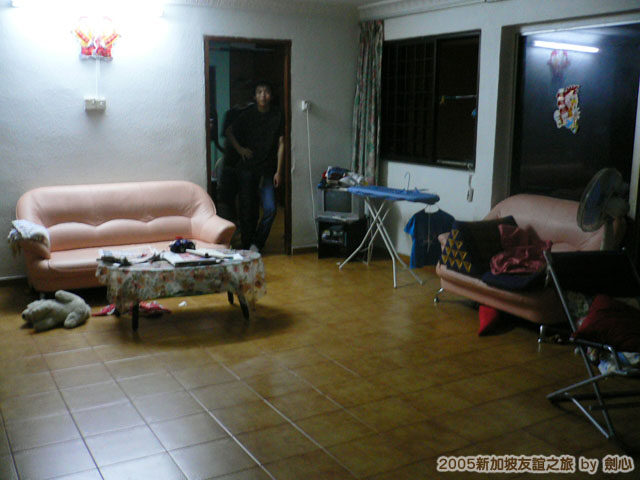 First of all we went to Eugene's home for a rest and Eugene changed his clothes. Then we drove to the red light district. There were many sexy girls from China standing on the street. Eugene told me that prices were different for each street. On one street the price was SG$60, while the others will be SG$80 or SG$100. Then we went to a bar with bar top dancing. Sexy girls danced on the table of the bar. Apart from this me and JKIZ were even more interested on the TV programme showing racing accident. Eugene also told me many things about the night life of Singapore.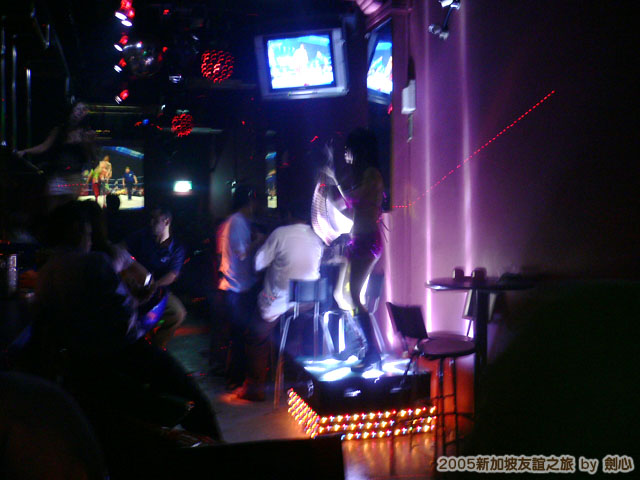 We drank beer and played dice to about 2:00am, and then we left the bar. Eugene drove us around the red light district, and let me saw the girls with different quality and prices on the street. After that we left the district. Eugene went for gasoline, and he helped me to fix my eyeglass that had a screw loosing out. After that, we headed for Kent Ridge Park.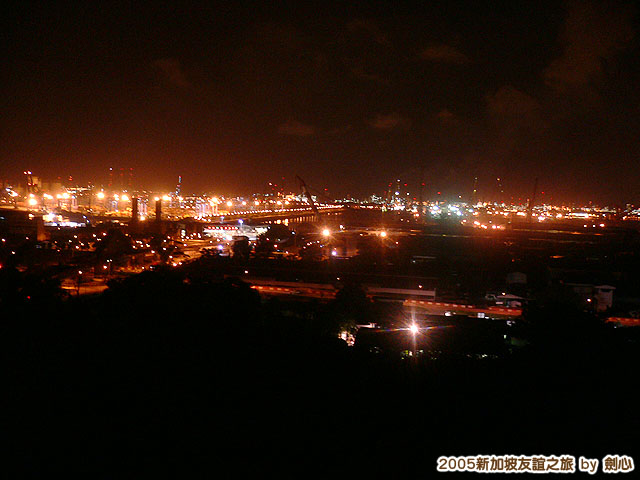 Singapore is a country with nearly all flat land. Kent Ridge Park was located on a little hill. The road up there had many sharp corners, and local people called it "99 turns". Eugene, apart from being a racing game player, was also a very good driver in the real world. He had much expereince, and he was even responsible for driving while he was serving the army. In the 99 turns he started the time attack with the full loaded Honda Fit. He drove fast with tyres sounding in every corner. At the front seat I took movies for this time attack. Then we arrived at the Kent Ridge Park.
They smoked in the park and I took pictures with the tank there. Then we left and Eugene played the downhill course. Again I took movies for the drive. After that we drove to Ports Town Road. The road was flat with a number of medium speed corners. Eugene challenged it and I shot movies also. These were all the roads that could be played, and then we headed for Jurong Bird Park.
Surely we were not visiting the birds at midnight. We drove there and see the beautiful night view of Singapore. Photos were taken, and we tried to leave secretly while JKIZ was staying alone in the far corner. However he discovered it and ran to us before we drove the car away.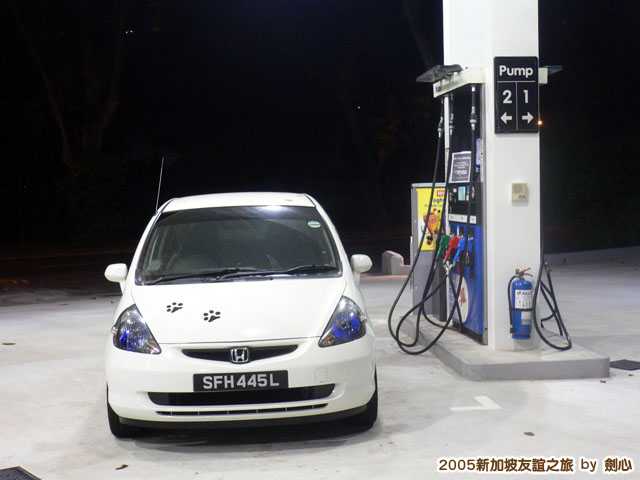 Then it was the end of the first day. Eugene drove them home one by one. When all were gone, Eugene asked me if I wanted to go across the border to Malaysia. Since I was too tired, I decided to go back to guesthouse for sleeping. Eugene took me back after adding gasoline. After showering I felt asleep at about 5:00am.
發表留言